Letter from Ralph Vaughan Williams to Maud Karpeles
[About 14th September 1934]
 White Gates,
Westcott Road,
Dorking.
Dear Maud
Herewith the screed.1
I have suggested 1 alteration - but it is not important.
- The only thing is if slurs are not to be read as slurs - wd it not be better to have some other sign - say a square bracket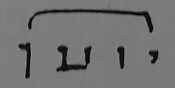 instead of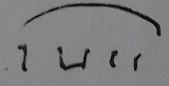 - It is rather difficult for a player not to follow the well known signs automatically in spite of warnings in the preface.
Yrs
RVW
All right about the tunes.
---
1. For delivery at an English Folk Dance Society event at Wargrave. See VWL1295; in the event VW was unable to attend due to a damaged ankle.
 
Names:
Places:
Location of original letter:
Shelfmark of original letter:
MS Mus. 1714/2/3/1, f. 148
Location of copy:
Original database number: