Letter from Ralph Vaughan Williams to Gustav Holst
Dear Gustav
I have now seen (a) Niagara (b) the Woolworths Building and am most impressed by (b) - I've come to the conclusion that the Works of Man terrify me more than the Works of God - I told myself all the time that N'ga was the most wonderful thing in the world - & so it is - especially when you get right under it - but I did not once want to fall on my knees & confess my sins - whereas I can sit all day & look out of my windows (16 floors up) at the sky scrapers (this kind of thing –)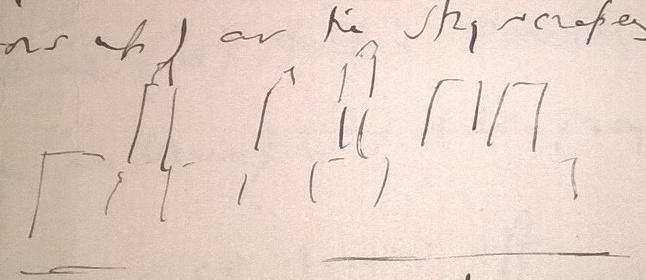 By the way my millionaire has put us up at the swaggerest Hotel in N.Y. - our landing was like a sort of very nice night mare - waited in dock on the ship for 3 hours to pass the immigration officer - then we came down the impossibly steep gangway into a dusky shed out of which there gradually loomed (a) Stockel's1 secretary (a pretty young woman in blue) (b) H.W. Gray2 (c) Forsyth3 - Then as we moved off I heard "Ralph" shouted out - & there outside the barrier were the Longmans!4 Then 2 niggers bundled our luggage down a chute - we were whirled off in a taxi & up 16 floors in an elevator - to a suite of rooms with 2 bath rooms with this wonderful view all over N.Y. - then whirled down again into a sort of cathedral where we had supper (chicken salad - (oh the American food - it's beyond powers of expression). Then at 11.0 - just as we were going to bed the GREAT MAN and HIS WIFE appeared - very nice & simple. But I never want a patron - it's too wearing.5
I've come to the conclusion that N.Y. is a good place but wants hustling badly - the busses are slow & stop wherever you like - Broadway is I believe easier to cross than High Street Thaxted6 - I've had two rehearsals of 1¼ hours as yet - I think I shall need all I shall get - I've got two more - many of the players are v. good but the back desks of the fiddles are not v. good - & Trombones have not much beef about them.
Just off to Norfolk Conn. now. I address this to the house which I hope is right (No I won't because I can't remember the number).
Give my love to all my pupils if you see them.
Love
RVW
---
1. Carl Stoeckel, see note 5.
2. Head of the American branch of Novello & Co.
3. Cecil Forsyth worked for H.W. Gray which represented Novello's in America.
4. Robert and Dorothy Longman; Robert was a member of the publishing family and a keen member of the Bach Choir of which VW was now the conductor. Robert and Dorothy remained close friends of VW.
5 Carl Stoeckel, son of Gustav Stoeckel, the first Professor of Music at Yale, was the Patron of the Festival at Norfolk, Connecticut, where VW was to conduct the first American performance of the Pastoral Symphony. See also VWL497.
6. Holst had a cottage in Thaxted.
Subjects:
Location of original letter:
Shelfmark of original letter:
General notes:
Not in Heirs and Rebels. Printed with omissions in R.V.W.: a biography, p.142
Citation:
Cobbe 130; R.V.W.: a biography, p.142
Original database number: