Letter from Ralph Vaughan Williams to Gustav Holst
Thanks awfully for the photograph. I will send you one when I get one if I may. You ought to have been taken astride your trombone - & I am going to be taken perched on an organ1 pipe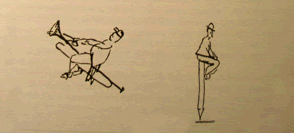 ---
1. The drawing is a sardonic allusion to the fact that Holst earned extra money by playing the trombone in seaside bands, while VW's first job was organist at St Barnabas, South Lambeth.
Names:
Subjects:
Location of original letter:
Shelfmark of original letter:
General notes:
  Printed in facsimile as frontispiece to Heirs and Rebels, dated c.1895.  Filed by UVW as 1896.
Citation:
Cobbe 2; Heirs and Rebels, frontispiece
Original database number: