Letter from Ralph Vaughan Williams to Michael and Eslyn Kennedy
The White Gates,
Dorking, Surrey.
Dear Eslyn & Michael
I shall be glad to welcome you any time before 7.30 on July 11th.  I will try and give you an itinerary:
When you arrive in Dorking go on until you get to the road fork of West Street and South Street.  Keep on down West Street until you get to the fire station, then keep straight on as if to Guildford for about three hundred yards.  Then you will find a lane on your right leading to The White Gates.  There are several of these little lanes so do not take the wrong one.  You will know the right one by the fact that just at the corner there is a house with the extraordinary name of Batu Merah!  I enclose a map (though not to scale) to help you.
People have great difficulty in finding this house because when they ask for "Westcott Road" they are sent on to Westcott and having arrived at Westcott and asked for my name they are sent into the depths of the country where my Uncle used to have a farm!1
My love to both of you
Uncle Ralph2
R. Vaughan Williams.
Michael Kennedy, Esq.,
3,  Moorwood3 Drive,
The Avenue, Sale.
---
1. VW's cousin Roland Vaughan Williams had lived at Tanhurst.
2. Opening and final greeting and signature in manuscript by VW.
3. The original address read "Norwood", but the first three letters are crossed out with "Moor" written in by VW.
Location of original letter:
Shelfmark of original letter:
General notes:
Typewritten.
With sketched map of directions written on the verso of a letter from Mary Jennings (Friends of St Paul's Cathedral) to VW welcoming him as a Friend and discussing the Festival Service and the likelihood of Dykes Bower including VW's Te Deum.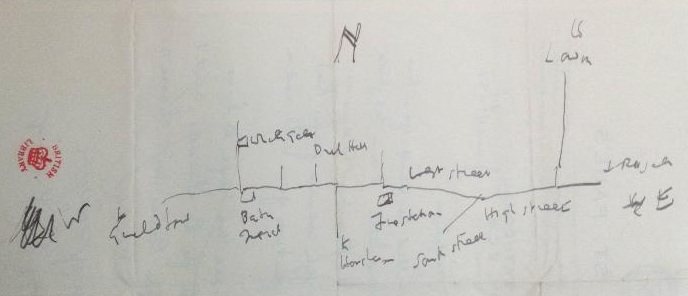 Original database number: