Letter from Ralph Vaughan Williams to Ralph Wedgwood
Dear Randolph
Your letter came like a great big (The other word is a silly & affected one) draught of claret and soda to a dusty bicyclist. I must come up to Cambridge, you seem to say that next week will not do, though Amos' presence would not hurt me, though perhaps mine would hurt him. But there are other objections
(1) Your Mother1 whom I met at a concert yesterday understands that you are going to be in London with Amos on Sat - is that so?
(ii) I have an engagement in London at 9.30 A.M. on Monday so should have to go back on Sunday night 
But I don't see any objection to the 27th, I really must see you by then, or as you say we shall get strange, and that would [be] Hell. Besides I want pulling up to the mark again by a little of your company. I don't know why I shoudn't tell me how much being with you kept me up to the mark. I am naturally of a bestial, lazy, sensual, earthly devilish nature but when I was with you a lot of that used to disappear, it was entirely your example that made me do what little work I did do.
How splendidly you used to bear with my indecent or otherwise low remarks, or amazingly silly things I used to do & say, how you ever bore it I don't know, And so you see how necessary it is that I, who can never see the fun of absolute goodness for its own sake, should occasionally see and converse with people for whose sake I think it worthwhile to make an effort, and I think you are the only man who has the desired effect.
I hope you will excuse this rhapsody but it does me good to write it and there is no reason why you should read it. If however you have got so far as this you had better read on as I have every intention of becoming more practical on the next page.
Why don't you come to London quite soon and stay several nights and then we wd go to theatres together and enjoy ourselves; and then you could also come and stay the night on your way to Cornwall. There are only two things that would prevent my coming to Cornwall
(I) The event of my getting some work, which will never happen, and so may be disregarded as a factor
(ii) The coincidence of Israel coming out of Egypt, and if at that moment
                     "Ralph saw that and fled, Vaughan Williams was driven back"
My Mother and sister would then be perfectly justified in exclaiming "What ailest thee O Ralph that thou fleddest, and thou Vaughan W. that thou wast driven back?".2
In fact filial piety wd drive me home even at the Risk of making Amos skip like a ram and the little horses like young sheep.3
Last time I came up to Cambridge I did not see enough of you, it was entirely my own fault, I was weak minded and spent the time dallying with "the fools who crowded youth nor let me think alone".
By the way, some people told me of a cottage at the Lizard4 which was very jolly, no Tourists, they say it is splendid, do let's go to the Lizard.
Shall I write and ask these people for the name?
My Egyptian relations write magnificent long letters full of most interesting information none of which I can ever remember for 5 minutes. The chief thing that I remember is that the south wind blew hard all up the Nile and the north wind all down, so that they took rather longer than they expected.
Do not make Thursday one of the days you stay with me here, tell me soon what days you will come.
Yrs always
Ralph Vaughan Williams
P.S. This is Dr. Glasher5 from memory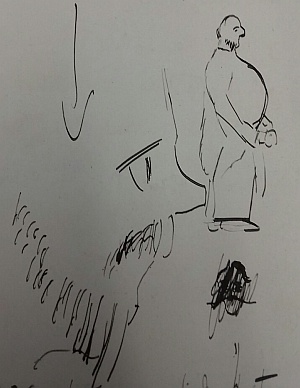 P.P.S. it looks more like Montague Butler6
---
1. Emily Wedgwood
2. Misquoting Psalm 114, verse 5 "What ailed you, O you sea, that you fled? you Jordan, that you were driven back?".
3. An allusion to Pasalm 114, verse 6.
4. The Lizard peninsula in Cornwall.
5. Unidentified.
6. Henry Montagu Butler was Master of Trinity College Cambridge and Vice Chancellor of the University.
Subjects:
Location of original letter:
Shelfmark of original letter:
MS Mus. 1714/1/1, ff.81-86