Letter from Ralph Vaughan Williams to Nancy Marsden
Leith Hill Musical Competition
To: The Conductors, Town Choirs.
Here are one or two notes on our Conference last Saturday:
(1.) I owe you an apology. I took "The Blessing of the Swords" too quick so that it was impossible to sing 
letter (F) p.8 correctly, and it became almost


I suggest ♩= 60 and perhaps a little slower at (F) with a divided beat. Please bring your copies when we go through the "Passion" and we will try to snatch a moment for it.
 
(2.) There is a misprint in the Mass p.121 Alto  - it should be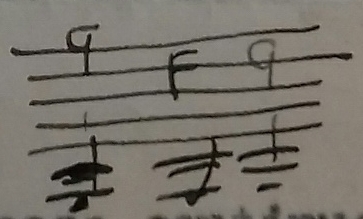 (3.) p.104 basses - please continue the word "all" throughout the phrase (as in the Tenor part) not "things".
R Vaughan Williams
(R. Vaughan Williams)
To:
Places:
Location of original letter:
Shelfmark of original letter:
General notes:
Typewritten, signed, with manuscript music notation added. Date from postmark, and added at foot of letter.