Letter from Ralph Vaughan Williams to Harold Child
Samatt House,
Freshwater Bay,
Isle of Wight.
My dear Child
I think the opera is beginning to go swimmingly.  I have sketched fully from Mary's ballad down to the end of Hugh's 1st song (sweet little linnet) and vaguely thought of a lot more, it is quite bad but that's my way of working.  I think in spots and have to fill in with dummy material which gradually gets better.  I've thrown all theories to the wind and am simply setting your text as it stands (nearly - of this more later).  The result may be very good and original in form, I believe it will; or it may turn out scrappy - in that case we will have to recast it when finished.  By the way, I am finding your words splendid to set.  I didn't know before I started whether I shd but I like them more and more, they run so easily and at the same time they are so full of real meat.  It will be far the most distinguished comic opera libretto in existence; my only fear is (and I am quite serious over this) that my music, up to the present has by no means the same distinction.  I find it very hard to be light and not banal at the same time.
Now one or two details.:
(a) I have played old Harry with your rhymes in a few places.  This will require much discussion
(b) I have left out some lines in one ot two places, this will require a little looking, too, because they make nonsense in their mutilated form.
(c) In some of your second verses the tune of the first does not fit - we must discuss whether you can alter your words or I can alter my tune.
(d) I wish you wd put down in musical notation how you think Hugh's song of the road ought to go as regards rhythm.



God save our gracious King
I've got the germ of rather a good tune for it, but it makes rather a gabble of some of the words - especially the 'horses hoofs', rather a jaw breaker to sing quickly.  I feel I may have misunderstood entirely the rhythm of the song as you imagine it.  I wish you wd do this for all your lyrics - I don't promise to stick to your suggestions, but it wd very likely give me ideas.  Do you imagine the dialogue between Hugh and Mary after his song of the road to have fast of slow music?  I've begun to think of rather nice slow music for it, but this wd. fit in equally well somewhere else.
(e) At present I don't feel quite happy about the devices between the last mentioned dialogue and the song and chorus etc. leading up to the fight.  I have a feeling we might make the constable, led by Aunt Jane, come on the scene at once & the constable abuse Hugh as a vile seducer.  Hugh offers to fight for Mary - the crowd and showman take up the idea and continue, as per script.  But this is perhaps commonplace and the amateur's idea of stage effectiveness - and of course I can't tell anything till I see how the scene continues, probably it will all clear up then.
(f) I think I've thought of something for the catch 'a fight, a fight' and for the Boney song.  By the way, this must be solo, the words are too good to be wasted on a chorus - (chorus might chip in).  By the way, your final line in each verse of this song is in a different metre - wd it spoil it to make it all like the last verse?
(g) Cd you put words to the enclosed tune - it's not a very good tune at present but will, I hope, mature in bond - but the rhythm, will be exactly this.  They sing it when they come on: 'Here come the Morris men' or something of that sort - they sing it twice, once alone, and then in combination with the 'Morris on' tune.  (see enclosed) so either two verses are wanted or the same repeated.
(h) I have invented a new (small) character, a sort of turnkey who marches in front of the constable at his 1st entrance and says 'Make room for the Constable' in a ridiculous high tenor.  We can either cut him out or develop him.
(i) I have extended the chorus part and given them extra words to say - these will have to be translated into English by you.
(j) There are several ejaculations for solo voices in the chorus parts - if there are going to be some minor characters in Act II then remarks might be allocated to them.
(k) There is a good deal of chorus work in Act I.  I suggest the chorus shd not be so importnat in Act II.
(l) I feel we want a sort of pause before the fight and a regular ensemble in slow time with everyone yelping their own particular screed - Mozart, of course, does this by making the characters repeat themselves ad nauseam, but we might do it by giving them lots to say or having sort of refrains which wd. be in repetition.
The sort of thing I mean is that they all stand still and say (only at great length)
Mary.  Don't fight he'll kill you.
Hugh  I fight only for you.
John  I'll kill the ruffian.
Constable  I bet my money on John.
A. Jane  O dear this is all very terrible.
Chorus  What fun.
Women  Oh! I am frightened.
All going on together.
But don't do this unless it appeals to you.  I have found it most satisfactory to follow your lead and I don't want to conventionalize it.
(m)  How would it be to make a romantic ending to the whole thing.  The cart with the two lovers in it making for the open country (seen in the distance) the chorus bidding farewell all done in terms of a glorified version of Hugh's little drover tune.
       Cart
chorus        chorus
principals    principals
       orchestra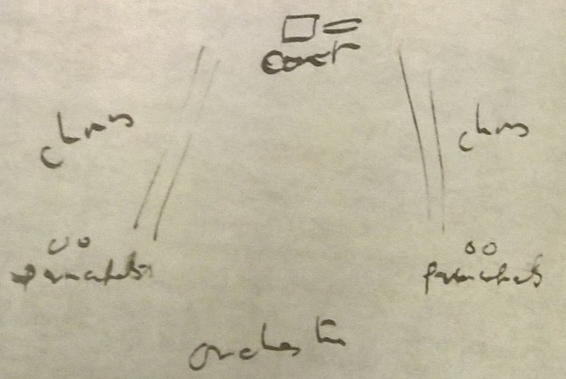 Yrs.
R.V.W.
P.S.  I am here till the end of the month.  We must meet then and have a long discussion.  I hope to have something to play to you.
P.P.S.  On sleeping this letter over I find I have still more to say.  The cast I propose is as follows
Mary (soprano)  Maggie Teyte
Jane (alto)  somebody like Rosina Brandram
Hugh    John Coates
John    Higley
Constable    Robert Radford
As there is a chance of not having Maggie Teyte wd it be better not to make Mary into a big singing part so as to be able to secure somebody tolerably good looking and with a reasonably slim appearance.  What do you think?
P.P.P.S.  Do you think a sort of hornpipie tune with bangs at odd moments (rather like harlequinade music) wd. be good for the fight?  If you don't care about the idea of the linnet song again it cd be played in the orch. while he and Mary sing something else.
Subjects:
Musical works:
Location of copy:
Shelfmark of copy:
MS Mus. 1714.2.4, ff.33-46
General notes:
Ralph and Adeline were at Freshwater during this time.
Citation:
R.V.W.: a biography, pp.408-410