Letter from Ralph Vaughan Williams to Harold Child
Leith Hill Place,
Nr. Dorking,
Dear Child
A good metre for a quick bustling ensemble might be



or



or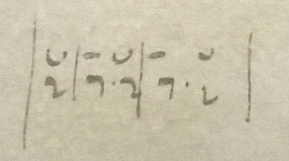 In the ensemble (if you put it in) I suggest the constable to start, A. Jane to take it up, and gradually everyone - & meanwhile Hugh and Mary to have a sort of whispering interlude of about 2 lines each.
'Will you remain true?'
'Yes I will stick to you always' etc.
Then for the last chorus (slow) I think 4 syllable lines best.  Iambic, or possibly slow dactylic (brightest and best of the sons of the morning) but these are only suggestions.
R.V.W.
Subjects:
Musical works:
Location of copy:
Shelfmark of copy:
MS Mus. 1714/2/4, ff.64-65
Citation:
R.V.W.: a biography, pp.414-415