Letter from Ralph Vaughan Williams to Harold Child
Dear Harold
Here is the 49th //l1 tune with a nonsense verse attached to show the metre and suggested rhyme scheme.
To fit the time we want something rather high falutin' "noble & sentimental" - like about Canada or Unity of Nations ("Parliament of man the federation of the world") - I suggest 3 verses - I do hope you will feel like it - It might be a popular success.2
Yrs
RVW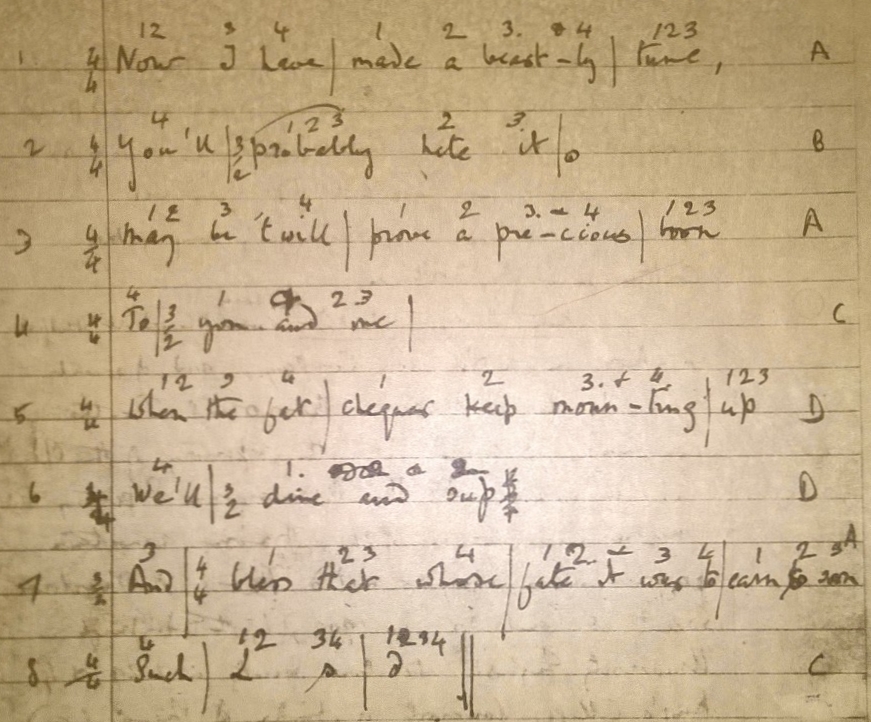 ---
1. i.e. The 49th Parallel. Harold Child had been asked to write a song to music adapted from the Prelude. He wrote 'The New Commonwealth'. See Catalogue of Works 1940/3.
2. The words were as follows:
See where the beacon fires of Faith
Fling glory to guide us.
There lies man's upward way o'er death,
O'er hate and fear.
Trust we the light that burns so dear,
And lift our eyes
Whose Faith sees what heavenly host of great allies
March on beside us.
Hope we have won from our despair
And joy out of pining.
Fast anchored safe in waters fair
We've lain at rest.
Hark from afar on wider quest
life calls us now.
Then up anchor, spread the sails and point the prow
Where hope is shining.
Names:
Location of copy:
Shelfmark of copy:
MS Mus. 1714/1/14, ff.54-56
General notes:
See MS Mus. 1714/2/4, ff.143-144 for the "version of 6 June 1942" of this text and MS Mus. 1714/2/4, ff.140-142 of the "Version approved 6 Aug. 1942". 
Original database number: