Letter from Ralph Vaughan Williams to Alan Frank (OUP)
From R. Vaughan Williams,
The White Gates,
Westcott Road,
Dorking.
Dear Frank
I return herewith revises of Symphony.
May I see the following pages again
16, 24, 26, 57, 75, 90, 97, 110
also 86 which seems to be missing on the 2d proof
There seems to be a query about the grace notes in the side drum part
The pink score has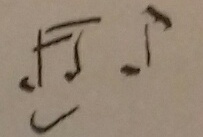 The green score has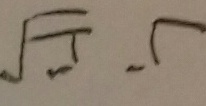 - I do not think the slur is necessary
Yrs
R Vaughan Williams
P.S. has Mr Foote1 checked this revise?
---
1.  Guthrie Foote, the Production Manager.
Names:
Subjects:
Location of original letter:
Shelfmark of original letter:
Location of copy:
General notes:
Dated after the first performances in April and May 1948 but before publication of the score in September 1948.
Original database number: